This tutorial is for one of my favorite projects and I can't wait to share it with everyone!
I did this project in my youngest daughters room and absolutely L.O.V.E how it turned out! I've had this idea in my head forever and finally worked out the kinks to get it done.
I wanted to do some larger artwork above her crib, but wasn't comfortable hanging anything above her that was super heavy or had glass. My kids run tall and I know she'll be reaching over the side of the crib before she's a year old. What's so great about this project is the main material is foam board and weighs practically nothing. So if she manages to pull one of these little guys down it won't hurt her at all. Gotta love super easy, affordable, and safe projects, right? Every mother's dream!
So here are the steps you'll need to make this super affordable and customizable project.

Supplies:
exacto knife or box cutter
First, you'll need to cut the shapes out of the foam board. I'm not gonna lie here ladies...this can be tricky! It took me at least 5 passes on each cut to get through all the layers in the foam board. And with some of my animals being about 2' wide/tall it took some maneuvering. But just be patient and go slow...you'll get through the foam board eventually.
Once you have your shape, lay it on the fabric and trace it out with at least 1.5" to spare all the way around.
**Note: make sure to trace your shape onto the back side of the fabric so you cut it out the right way...learned that lesson the hard way!**
Next cut out the fabric pieces.
Using the spray adhesive, attach the fabric to the front side of the shape. Make sure to get any bubbles out at this step before the adhesive dries.
Once it's dry you can start to wrap the fabric around the cut out. Slowly work your way around the cutout and glue the extra fabric down using the fabric glue. I tried to use a brush for this part...but quickly found out that nothing works better than the tools God gave you!
I found the best process was to (1) run a line of glue on the section you're working on (2) slightly stretch the fabric around the edge and over the glue (3) use your finger to smear/spread the glue as it seeps through the fabric.
When you get to the tricky areas where there are lots of curves you might need to add extra glue on the top of the fabric and smear it around to make sure it's all sticking down.
Your fingers will get really sticky...so make sure the kids are down for a nap and you've already gone potty before you start gluing! This is not an easy part of the process to hop up from!
I would also recommend lifting up the shape every once in a while to make sure everything looks good. Especially if you are using a striped fabric and you don't want the lines to get off center.
Once all the glue is dry you are ready to hang them up!
**Note: These foam board hangers work perfectly for a project like this!**
I went with a cluster/cloud shape centered over Baby Girl's crib. I also thought about a long photo shelf across the whole wall to stand all the animals on. Really, the options are unlimited!
I hope this project inspires you to add some easy quick artwork to your walls. The options are endless! You just have to

find the time

!
This post has beed featured on these great blogs!!!: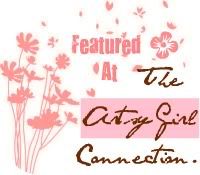 I AM LINKING TO AS MANY OF THESE PARTIES AS POSSIBLE: